Renovating your home may seem like a giant project you'll need months to complete. But there are many different renovation projects which don't take long at all to accomplish. These five options are just a few projects you can start and finish in just a few days. So set aside a weekend and tackle one of these to make your home look awesome.
Give Your Cabinets A Facelift
If your cabinets look like they're from decades ago, it's time to give them an update. Replacing them isn't the only way to do this. Repainting them can give them a tremendous amount of help. Replacing the hardware is a quick project with a big impact. Adding trim or beadboard to add interest to cupboard doors or other surfaces is another option for you to consider.
Remove Outdated Flooring
For reasons that now seem vague and confusing, people once thought that hardwood flooring needed to be covered up. They used flooring like carpet and linoleum to hide their lovely floors instead of letting it shine. But thankfully, it's possible to undo that decision. If taking a peek under your carpet reveals gorgeous hardwood flooring, setting aside a weekend to restore it back to its former glory is a great home renovation project.
Update Your Bathroom
If you've got a boring or outdated sink or toilet, then swapping it out for a new one can drastically improve the appearance and functionality of your bathroom. Replacing a toilet isn't terribly complicated. Neither is adding a new sink. As long as you're not planning to totally revise the layout of the bathroom, this project is a simple matter of removing old fixtures and replacing them.
Repaint Accents & Accessories
When you consider repainting, walls might be the first surface which comes to mind. While repainting a room is certainly an option, there are loads of other things which can benefit from a fresh coat of paint, too.
An outdated ceiling fan can be updated with a quick coat. Repaint a door for a fresh, new look to any room. Use paint to update old knobs, handles, or light fixtures. As long as you use the right type of paint and finish it correctly, almost any surface can be renewed with it. Just be sure to read all instructions and prep the areas properly first.
Rethink Your Window Treatments
If you don't love the window treatments you've currently got, then replacing them is easy. Find them in colors or patterns you love to instantly update the look and feel of a room. If dim lighting is an issue, look for airy curtains which can be pulled away from the window to let in more light.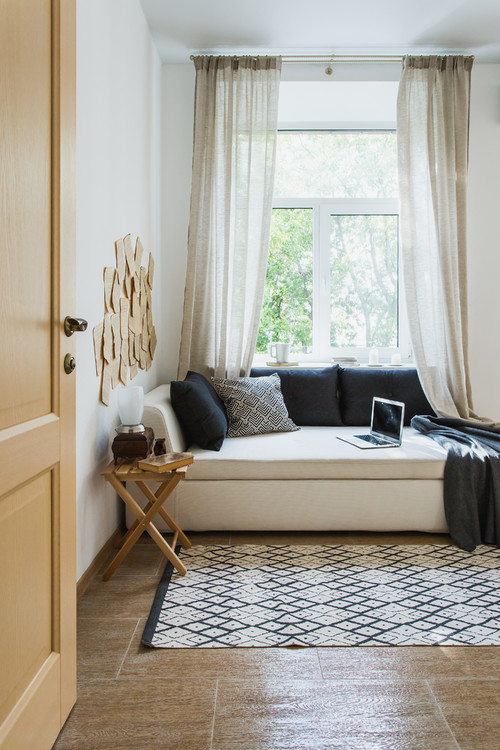 Hang curtains high to make your windows seem larger and your room look taller. Replace tired-looking blinds for new ones, or consider frosting a window for permanent privacy.
There are tons more options available for weekend home renovations, so don't stop here!
About the author: 
Jessica kane is a writer for GoHardwood, a premier flooring company that sells first-rate, quality hardwood flooring products for less.